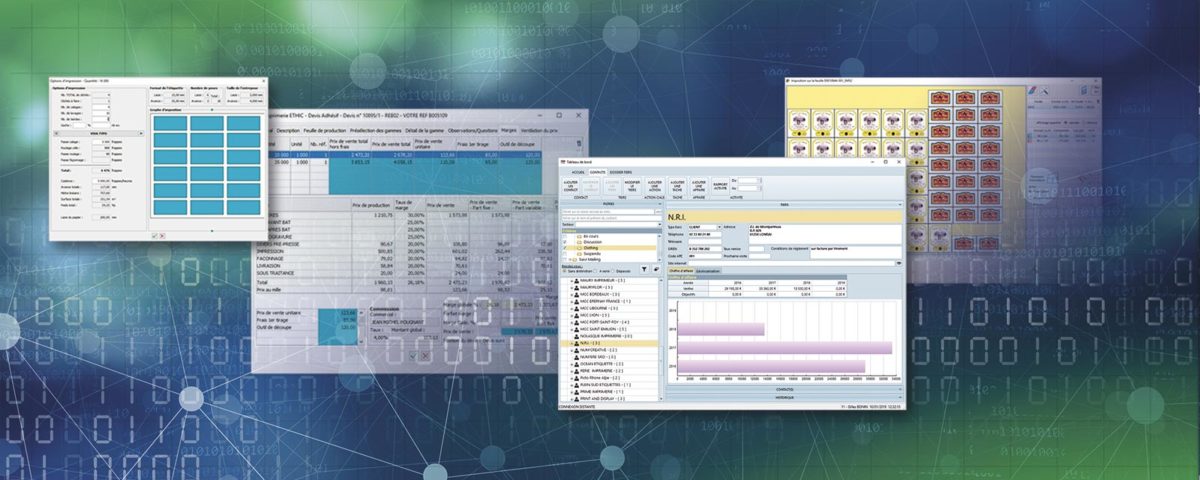 Our services
Auditing and analysis 
We are here to listen closely, to understand how you work, to identify, observe, study and assimilate your specific needs in order to improve our software parameters for you and your business.
Our team is specialised in the Printing Industry and can thus comprehend the definition and conditions required to implement solutions in the most efficient way for you and your business.
Development 
Based on detailed documents provided to us  by you, which we analyse, our developers produce Menus, Windows, online assistance, algorithms, interfaces, chart structures, programmes and modules.
A procedure of internal testing, carried out in partnership with you and your coworkers precedes the « Field-Matchning » phase prior to publication or delivery.
Operational parameters 
Our solution specialises in treating the flow of information within businesses that work in the field of Graphic Arts.
Our solution therefore offers specific functions adapted to Prepress, Printing and Post printing activities.
Our experience in such fields has enabled us to develop and create all the necessary parameters required in such fields to fulfil all your needs.
NB :
It is a given that the concept of a standard function exists in an ERP software when it is described as « Business ». A « Business function » answers the requirements of all the various players in that business. Thus, before dealing with an enquiry or request, we have to determine whether it contributes or not to the general interest or if the function to be added is « Business specific » or not.
On the other hand, functions that are limited in their scope to the requirements of a given client are called « specific ». Specific is not « business »: it is defined as « Company X or Y ».
For over twenty years, we have ensured that we not only never reject the « specific » but also and most of all ensure to implement a « Business » base rule. This rule and this precision guarantee stability of our solutions as well as their ability to adapt.
You will therefore find the same « fundamental » software used by all our clients.
The various potential parameters in our software are what makes it specific and adaptable to each different client.
THE VANGUARD and FIRT LINE OF DEFENSE for PRINTERS depuis 1999 since
User training 
We provide training for our software and are certified as such as a Training Center.
The training sessions are declined by department.
At the end of a training session, users have all the necessary tools to use the software modules in situ. 
Assistance and consulting
When developing a new software, there are inevitably significant key decisions to be made that have an impact on business organisation, software functions or even strategic planning.
Our experience at ETHIC in such situations means we are right there alongside you to help advise and provide consulting on possible solutions, regardless of the issue.
ETHIC PRECISION – GLOBAL VISION…
Hotline – Maintenance 
Each member of our team is at your service.
« Competence, availability, patience and efficiency » are how our faithful clients describe our service and our team.
We answer the telephone and deal with your call within the hour.
We hold piloting committees.
We provide distance training.
With your authorisation, we can take over your workstation from our own location, to work hand in hand and guide you to solve any issues of adaptation you may face.
We only access your server with your prior consent and in strict compliance with the terms and conditions of the confidentiality and professional secrecy agreement required to install and deploy for you any new requested versions.
THE VANGUARD and FIRT LINE OF DEFENSE for PRINTERS depuis 1999 since